Waive Junior Remembering
Our First House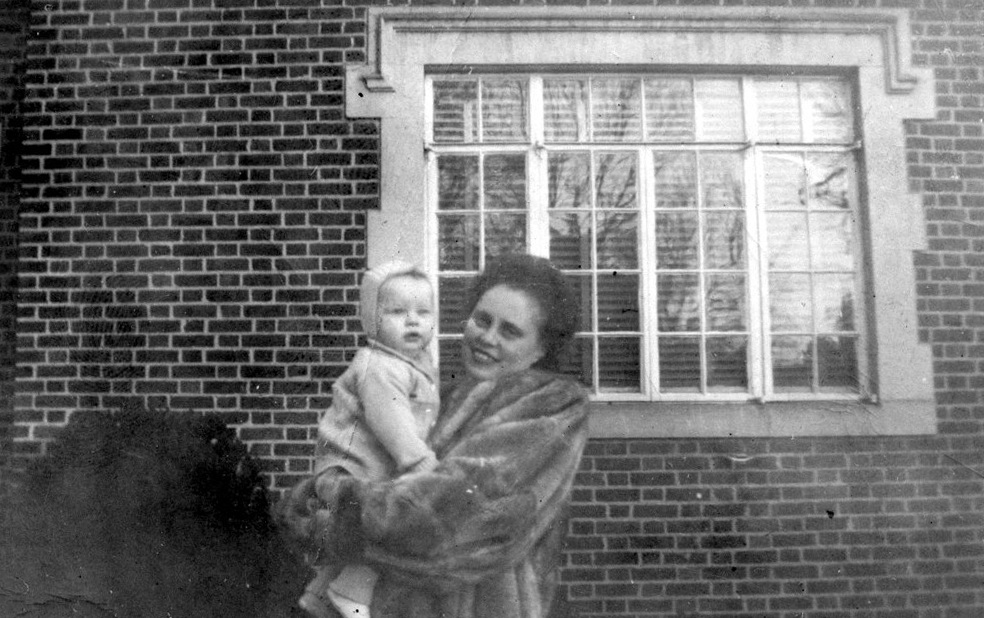 Waive with Fred Junior Junior, or Cork as he was called
We finally scraped together enough money to build us a house. It was through a very good man near Cutlerville, Michigan, on South Division Avenue. Fred had started his own business and called it the Grand Rapids Coffee and Tea Company. He had some customers in a poor neighborhood and the children didn't go to Sunday School. We were concerned, so he and some other people from our Church (Wyoming Street Gospel Tabernacle) started a Sunday School on Sunday afternoon in a house they rented. It was a success and the house was packed with children and adults alike on Sunday's. We had a big tent revival on the grounds one summer and many people were converted. It was during this time we met Luther and Doris Martin. Doris played a violin beautifully and they began to help us out with the church -- Luther would speak and Doris would play the violin.

One Sunday in August Luther and Doris told us they would not be able to help out anymore--only until the end of the month as they were going to Atlanta, Georgia. to study for the ministry. How excited we were for them! Fred and I got to talking and I said to him, "Fred, here is the chance you have been waiting for, let's go to Atlanta and you can study for the ministry too. Everyone from around our area went to Moody Bible Institute in Chicago and we just couldn't afford it. After all we had five children! Here was a place to study for the ministry and your only expenses were your books!

So we moved to Atlanta, Georgia in 1942. Fred attended the Atlanta Bible Institute by day and worked in the chenille business at night. He also bought a chenille factory with another man. This was during World War II and chenille was a very popular item. Fred got sheeting (which was used to make the chenille products on) through a Jewish friend named Abe Bressler and a woman named Mrs. Lyle who worked at Sears. Truly, the Lord was good to us, for we prospered; we were able to buy a beautiful home and Fred bought two old big houses on Pryor Street and had one remodeled into a church (called Pryor Street Mission) and one a place for people to live in until they got back on their feet again. We lived in Atlanta from 1942 - 1948. During one Christmas holidays we took a vacation in Florida and Fred fell in love with it.

On June 2, 1947 we had another baby boy whom we named after Fred. But soon we were calling him "Corky' who was very spoiled by his four sisters and one little brother. He was a doll and we all loved him, but Gary was the best, most loving boy (everyone said that they ever saw), They were both born after we had accepted the Lord as our Savior, and we dedicated them unto God,; who knows some day they may still do what I asked God for (as of old, when Hannah wanted a son.).