J21 FRED JOHN JUNIOR, FERDINAND NORMAN JUNION (J9), PIERRE JOSEPH JUNION (J5), JEAN LAMBERT JUNION (J1)
Fred John Junior, son of Fred Junion and Mary Drossart, was born on June 30, 1906. He died on Nov 27, 1976 in Clearwater, Florida. He married (1) Sep 14, 1929 to Virginia Bush in Allegan Michigan, dau. of Clarence and Mary Monohan Bush, div. May 20, 1933.
Fred m. (2) Jun 22, 1933 to WAIVE CARRIE SCHWANDER b. Sep 18, 1912, d. Jan 28, 1999, daughter of Charles and Ruby Schwander.

Both bur. Shiloh United Methodist Church Cemetery, Shiloh, Marion County, FL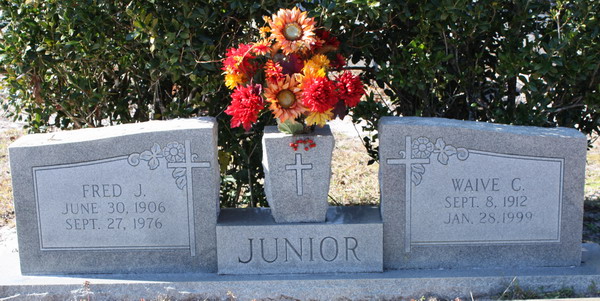 Census:
1910 Nasewaupee, Door, WI, age 3, Fred Junion-35, Mary Junion-8, children: Margaret-8, Raymond-7, Harvey-5, Fred-3
1920 Jacksonport, Door, WI, Frec C Junion-44, wife Mary-40, children: Margaret-18, Raymond-16, Harvey-15, Fred-13
1930 Allegan, Allegan, MI, Fred Junior age 23, wife Virginia-19
1930 Allegan, Allegan, MI, Carpenter, Ike age 39, wifge Hazel-39, sone Elton-18 (note: Elton is Barbara's father)
1940 Grand Rapids, Kent, MI, Fred Junior, age 33, wife Waive-27, children, Barbara-8, Sue-5, Dixie Lee-4, Carole-2
1940 Oct 16, Draft Card, Grand Rapids MI, Fred Junior, age 34, wife Waive, Employer: Grand Rapids Tea Co.
Note: Fred was born Fred "Junion" and was listed as such in the 1920 census but on his wedding certificate to Virgina Bush in 1929 both him and his father was listed as "Junior" and on the 1930 census he was listed as "Junior" which he used from then on.
Discover more about Fred Junior and his family click here
Son of FRED JUNIOR and Virginia Bush is:
J21a

Richard Lee (Dick) Hoye

r, b. Jul 5, 1931 in Grand Rapids MI., d. Jan 28, 1999. Married Shirley June Traux on February 21 1934, b. 1911, d. Oct 29, 2010
Children of FRED JUNIOR and WAIVE SCHWANDER are:
*J22 Barbara Rose Junior - b. January 16, 1932 in Diamond Springs Michigan. d. Mar. 10, 2013. She married Morris Darlington Mixson on December 1, 1950.
*J23 Sue Beverly Junior - b. May 21, 1934 in Burnips MI, d. Jan 23, 2021, Gainesville, FL.. She married James (Jimmy) Darlington Mixson on February 18 1950.
*J24 Dixie Lee Junior - b. March 30, 1936 in Grand Rapids MI, d. Nov 30, 2019. She married Bill Costen in 1957, in Atlanta GA. She married Steve Guinn.
*J25 Carole Lynn Junior - b. December 30, 1937in Grand Rapids MI., d. Dec 21, 2008. She married Bob Williams on xx and divorced on xx. She married Richard Williamson on on June 15, 1967.
*J26 Gary Rex Junior - b. October 3, 1940, in Grand Rapids MI. and died on October 3, 2008. He married Dianne Dowling on November 4, 1967, she was born on August 26, 1946.
*J27 Fred (Cork) John Junior, Jr. - b. June 2, 1947 in Atlanta GA. He married Constance "Connie" Dianne Brown on August 25, 1973, she was born on March 11, 1951.
4