Waive Junior Remembering
Early Married Years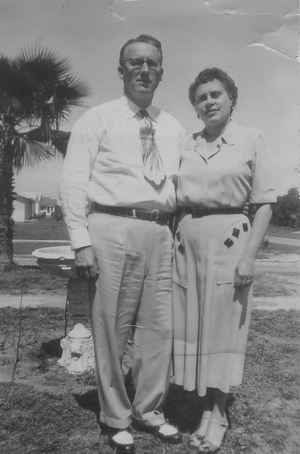 I had met Fred Junior a few years before we married -- it was the same summer Jack, my brother, was killed in a car accident on the 4th of July morning. (My dad was never the same after the accident.) Fred and I were married June 22, 1930, and lived in Allegan and Grand Rapid. We use to go out home to Burnips on the week-ends. Hazel and Louie, and Hazel's boy Delmar would always be there visiting too. They lived with Grandma.

I remember when Barbara was born on January 16, 1932, Delmar was around three years old. He came in and had a little hair brush in his pocket for her. He didn't want it wrapped for this is how he wanted to give it to her. Since he was the first grandchild, we all rather spoiled him. I think I was his favority though -- he was a smart little boy.

Bob, my brother, was born in January before Delmar in May so they were nearly the same age. Helen, my youngest sister was born the year after Barbara. Sue was second, and born the next year. Ma took care of me for both Barbara and Sue both girls were born on the farm near Burnips, Michigan. Sue was born around one p.m. on May 21, 1934. Ma got so excited she couldn't find anything. Sue was such a strong little baby right at birth she turned over and nearly fell off the table.

Everyone liked to tease Fred because he was sick to his stomach just like me, before Sue was born.