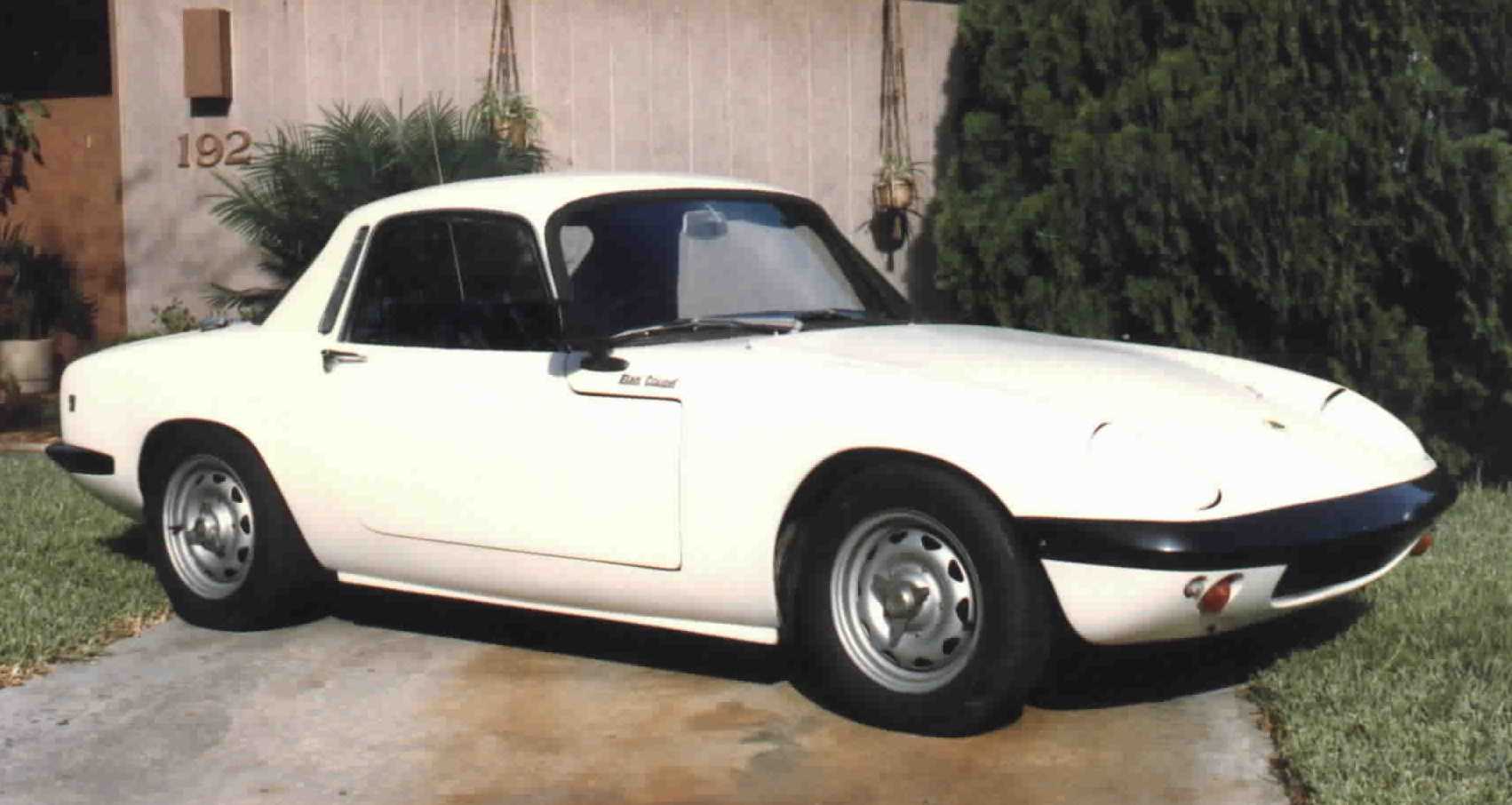 My Lotus Elan
After restoration completed summer of 1980
In the summer of 1979, I bought a Lotus Elan from Cathy, a woman I worked with at Harris. Cathy was a year or two younger than me and we became friends and started spending time together, I would not have called it dating, but more as "just friends". Did I just say that, "just friends"? I really hated it when women said that to me when I was interested in them, and Cathy was clearly interested in me. I liked her well enough, she liked science fiction, cars, and she was a really nice person. But there were two things about her that I didn't like, first was she was a "Born again Christian" and she wanted me to go to church with her. Well, I had been through the church thing when I was a kid and had pretty much giving up religion by this time, so I had no interest in going to church with her. The other thing that bothered me about her was her looks. She had an amazing body, from the neck down, but her face, well I'll just say it wasn't very attractive. Yes there is the whole don't judge a book by its cover thing, and there was quite a few things I liked about her, but I just could not see myself kissing her face.
Well, anyway, Cathy had owned a 1968 Lotus Elan which she said she had for a couple of years. She took me for a ride in it and I thought it was the coolest car I've ever been in and when she saw how much I liked it, she asked if I wanted to buy it. She was honest about the car, it needed some work, the paint was a very faded red, the engine didn't run all that well, but overall it was in pretty good shape. I knew a little about Lotus cars, James Bond had a Lotus Esprit in the movie The Spy Who Loved Me and I saw one when I went to the 24 Hours of Daytona race, but I didn't know all that much about them other than they were sport cars made in England and had fiber glass bodies. All Lotus cars begin with the letter "E", the first being the Elite with the second being the Elan built from 1962 through 1973. (Later came the Europa, Esprit, Excel and so on up to the Elise in 2022). Cathy's Elan was built in 1968 and was somewhat unique. First it was righthand side drive, having been imported from England. Second it was a Elan S3 which was coupe instead of the more popular S2 that was a convertible. It was somewhat of a rare car with less than 3,000 of them being made. Cathy was asking $4,000 for it which I didn't know was a good price or not, so I called up my old friend John, who knew a lot about sports cars and was the working as a jet engine engineer at Pratt and Whitney and asked him what he thought. John said he thought it was reasonable and so the following week I bought the car.
For you car geeks out there some specs for the Lotus Elan S3: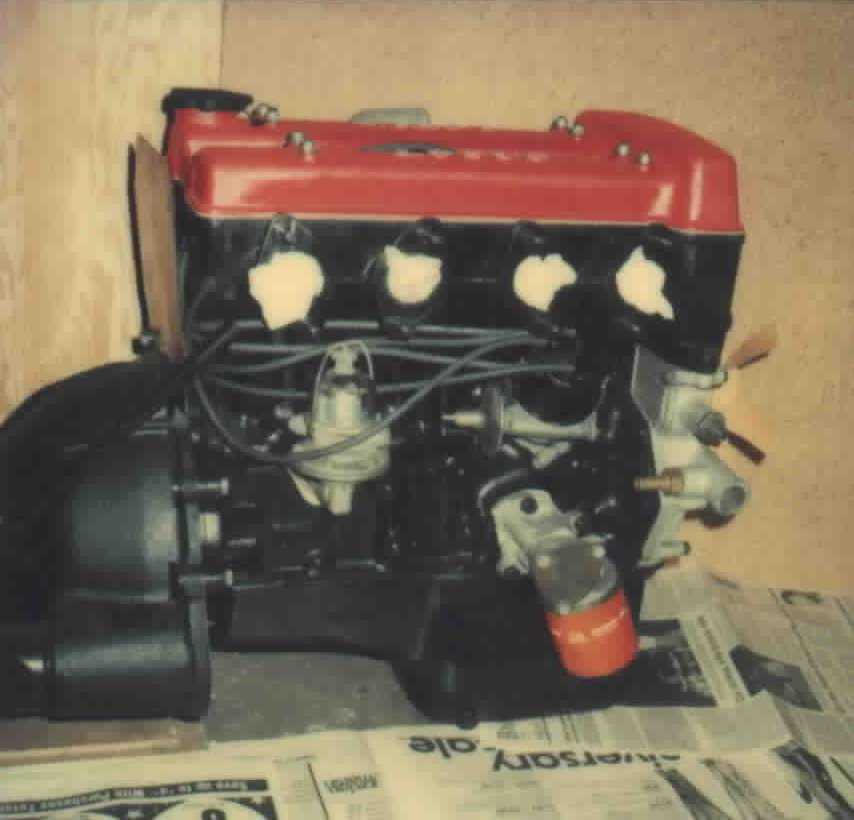 Rebuilt engine
Body: Fiberglass
Frame: Steel backbone
Weight: 1,520 lb
Engine: 1,558 cc, 4 cylinder, Lotus TwinCam
Carburation: Dual Weber carburetors
Horsepower: 108 bhp (from shop manual)
Gearbox: 4 speed manual
Suspension: Double wishbone
Brakes: 4 wheel disk
0-60: 8.0 sec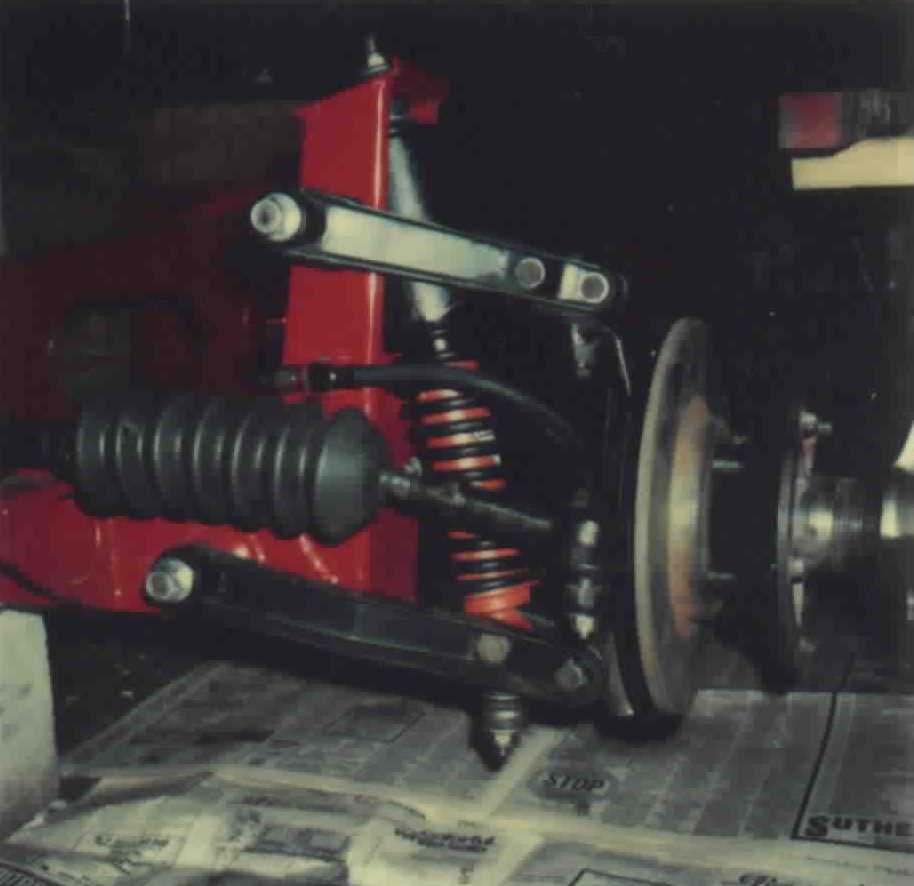 Newly rebuilt front suspension
The car overall was overall in pretty good shape, interior was in very good condition, no damage to the body but the paint was very faded with a lot of scratches and chips and the engine leaked oil so bad I had to put a quart of oil in it almost every time I drove it. After driving having it for a couple of months I decided to major restoration of the car. Fortunately, the car came with a detailed Lotus factory Workshop Manual that was about four inches thick that provided details about every aspect of the car. I pulled the Lotus into my garage where it would sit for almost a year. I first put the frame up on blocks, removed the wheels then lifted the entire body off the frame, suspending it about four feet above the frame. I then striped the frame down to bare metal and proceed to completely rebuild the front and rear suspension, new brake disks, rebuild the calipers, new brake lines, all new bushings on the wishbone suspension, and so on. Some parts for the car I was able to find though the Lotus Car Club of North America, but there were some parts I had to order from England which took several weeks to arrive. I originally planned to rebuild the engine myself but decided I didn't have the tools or skills to do so I took the engine to a place in Titusville that specialized in foreign cars and had them rebuild it. With the engine back, the chassis restored, I put the body back on and then stripped it down to bare fiberglass finding the car was originally a bright yellow before being painted red. With the body stripped, I drove it to a local paint shop and had it painted white.
Rebuilt rear suspension
On the way back from the paint shop, the car ran really badly. I was very disappointed, so I opened the bonnet (as the hood is called by the English) and went over the engine. AH! there were two spark plug wires reversed, it was only running on two cylinders. I switch them and, WOW!, that sucker got up and flew like no car I had ever driven before. It would hit the max redline of 6500 RPM in first gear so quickly I hardly had time to shift. It was geared very low so it didn't have much on the top end which a Road & Track magazine review said was 119, although I never drove it that fast, but, man, did it get there quick. Passing was always an "excitement" for sitting on the right side I had to pull out into the other lane to see if there were any cars coming and, if not, could floor it and shoot around the car. On the other hand, if there was a car coming, I could not see it until I was halfway out in the other lane and then had to swerve quickly back. But this was not much of a problem since the Lotus handled like no car I have ever driven. I had great fun driving it the next couple of years although it was often in the garage with some problem or another.