The following is from the HAYC brochure for the program.

October 2001 - October 2002
with Doug Keller and Susan Van Nuys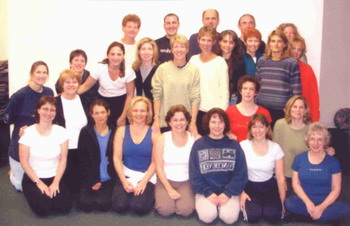 The Class of 2001-2002
THE PROGRAM
The Teacher Training Program is for experienced students who are interested in teaching or deepening their understanding of yoga. This yearlong course prepares prospective instructors to teach over 50 basic yoga poses based on the Anusara method of hatha yoga.
Participants are trained in the following areas:
• Principles of Anusara yoga, including loops and spirals
• Alignment and action in the poses
• Effective communication
• Basic anatomy as it relates to the poses
• Use of props
• Working with injuries
• Teaching relaxation and restorative poses
• Introduction to yoga philosophy
Each participant receives the HAYC Teacher Training Manual containing detailed instructions for each pose. The Manual is an invaluable teaching resource which includes illustrations, preparations, variations, details on loops and spirals, areas of misalignment for each pose, suggestions for teaching progressions and ample space for notes.
The following texts are required:

Anusara Yoga Teacher Training Manual, by John Friend
Yoga the Iyengar Way by Silva Mehta, Mira Mehta & Shyam Mehta
Anatomy of Movement, by Bladine Calais-Germain
Jnaneshwar's Gita: a Rendering of the Jnaneshwari, by Swami Kripananda

SCHEDULE & LOGISTICS

The course meets on the following dates:

October 27-28, 2001
December 1-2, 2001
January 26-27, 2002

February 16-17, 2002
March 23-24, 2002
May 11-12, 2002

June 22-23, 2002
September 21-22, 2002
October 19-20, 2002

Saturday sessions meet from 1:00-5:00 pm, and Sunday sessions meet from 9:00-1:00pm. Teacher Training classes are held at The Health Advantage Yoga Center in Herndon. Attendance at a minimum of 15 of the 18 weekend sessions is required. Hours missed must be made up through homework assignments and workshops.
In addition to the classes above, students are required to observe and assist Doug and Susan in six classes over the course of the program. These classes will be scheduled individually with each participant. In order to gain a broader experience of various approaches to yoga instruction, participants are required to attend beginning classes at other yoga centers three times during the year.
Students who successfully fulfill the requirements of the Yoga Teacher Training Program will receive a certificate of completion. HAYC is a registered school with the Yoga Alliance under their 200 hour certification. Upon successful completion of the requirements, participants may contact the Yoga Alliance for registry.
Doug and Susan will discuss the Teacher Training Program and answer your
questions at an Information Meeting on Friday, July 27, 2001 at 7:00 pm.
Please call HAYC if you plan to attend.
REQUIREMENTS FOR PARTICIPATION
In order to receive the full benefits of this course,
each participant must meet the following requirements:

• Continuous study of Anusara or Iyengar yoga for a minimum of 2 years
• Regular yoga practice of one hour four times per week
• Completion of at least two Level 2 yoga courses
• Current enrollment in a Level 2 class or higher
• Desire to help students grow and develop through yoga

THE INSTRUCTORS
| | | |
| --- | --- | --- |
| Susan Van Nuys is the director of The Health Advantage Yoga Center. She has been a yoga practitioner since 1989 and is a certified Anusara Yoga Instructor and a Registered Yoga Teacher through the Yoga Alliance. Susan has studied with many world-class instructors and has chosen to focus on the Anusara style. She also works in software development and received a BS degree in computer science and linguistics from the College of William and Mary. She particularly enjoys applying the logic she learned while programming computers to the progressive teaching of yoga poses. | | Doug Keller began teaching hatha yoga in 1989. He is a senior student of John Friend and is a certified Anusara Yoga Instructor and a designated Anusara Yoga Teacher Trainer. Doug also spent seven years in India studying yoga and meditation. He is the author of Anusara Yoga, Hatha Yoga in the Anusara Style and Refining the Breath, Pranayama in the Anusara Style. Doug holds a BS in Foreign Service from Georgetown University and a master's degree in philosophy. His goal in both teaching and writing is to share practical tools of yoga for developing a strong and supple body, an open and joyful heart, and a peaceful and focused mind. |