Magnesia Springs

A Bit of History
Magnesia Springs
Developed & Built By
G. H. Kelley
1928-1964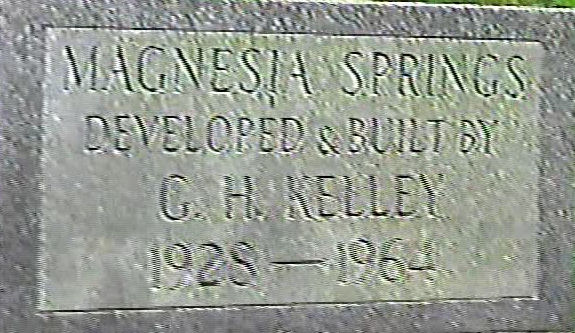 Magnesia Springs is located off State Road 20A three miles west of Hawthorne Florida. Hartwell Kelly developed Magnesia Springs after closing the Kelley Music Store in downtown Gainesville in 1928. Mr. Kelly developed the springs into a first class bathing pool and tourist attraction. His wife's parents, J.L. and Martha Brown, had owned it since 1882 when they bought 640 acres with the springs and moved there from Terra Haute, Indiana, in hopes of helping Mr. Brown's Civil War injuries.

Hartwell Kelley expanded the springs by hand-digging and pouring a 30 x 90 foot concrete pool in 1929. Mule drawn wagons hauled off the clay then, and again in 1932 when he further enlarged it to 50 x 152 feet with a 20 x 60 foot wading pool. Nellie also began the Magnesia Springs Water Company in 1929 and sold 5 gallon jugs for 50 cents each

. Camp Blanding alone purchased 800 to 1000 bottles a week.
Mrs. Kelley died in 1950 and Mr. Kelley sold the springs in 1964. He died in 1965 and production of the bottled water ceased in 1966. Gary Junior bought the springs in the early 1990's. The spring at that time was in a state of disrepair with the swimming pool looking like a swamp with palm trees growing in it. Gary cleaned up the pool, renovated the old concession stand and converted the old bottling pump house into a summer home. Gary sold the springs to Tom Dorn in 1999.
Some More History
2011
In 2011 I received the following email from Patricia K. Fullagar about some additional history of Magnesia Springs and connections to both the Junior and Mixson families.

Hi Larry,

My paternal grandparents were G. Hartwell Kelley & Nellie Brown Kelley, builders, owners, & operators of Magnesia Springs. My father, Harvey Kelley, ran the bottled water end of Magnesia Springs. I spent entire summers from 1946 until my grandmother died in 1950, at Magnesia Springs.

My elder son has just sent a copy of your clever skit at the pool. And, from there I found your contact and other information. Very impressive!

During my summers spent at Magnesia in the 40's, one of my favorites was a "Mr. Mixson." That's the only name I knew...no first name. He improved my swimming techniques tremendously, as he spent a great deal of time with me in the pool. He always came out there alone..no friends, no family members were with him. He always chatted considerably with each of my grandparents. They seemed to be good friends and were very happy for the 2 of us to spend so much time together in the pool. My memory is that he was approximately the age of my parents, so in the 40's that would have made him roughly 35-40/+or-5 (note, I was 7-10'ish at that time). I have always wondered what happened to him; I never saw him again after the summer of 1949, which was the summer before my grandmother died. Is there a chance he could belong to your family of Mixsons?

I'd love to hear from you, best,
Patricia Kelley Fullagar, Chapel Hill, NC

I asked my father about the mentioned Mixson and he said that it wasn't him, he would have been much too young at the time. He did say that as a child they did a few times go to Magnesia Springs with a group but it was a long way to travel for them from where they lived outside of Micanopy. He did say that he new at the time there was a couple of Mixsons living in Gainesville and one might be the Mixson that was mentioned. He thought one was a dentist and the other worked at the hardware store in Gainesville.
Patricia then sent me a follow up email saying "In 1997, we had a Kelley reunion in Gainesville. At that time, Gary Junior allowed us to hold a picnic on the grounds of the pool and to swim. Our entire gathering had a wonderful time. And, every thing-pool, grounds, buildings-looked fantastic." She included the following pictures.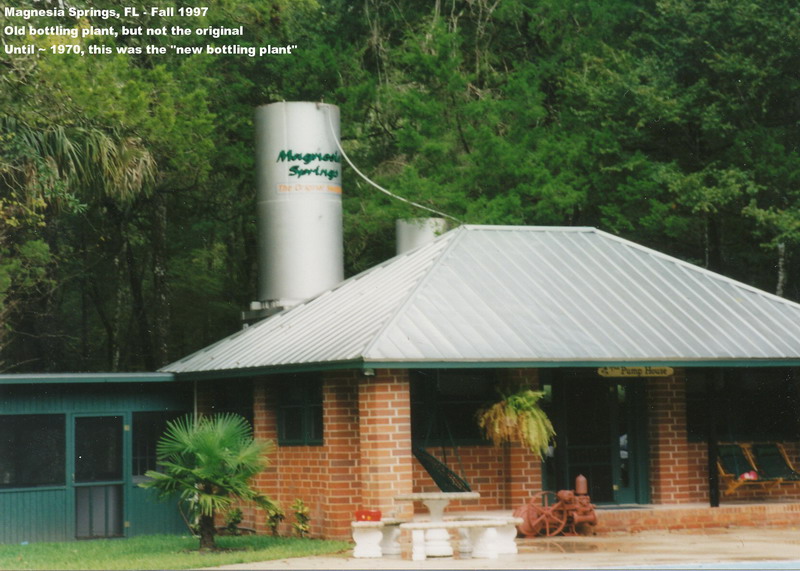 Gary Junior rebuilt this "Pump House" on the site of the original. The old pump in the foreground and the tank in the background are from the original.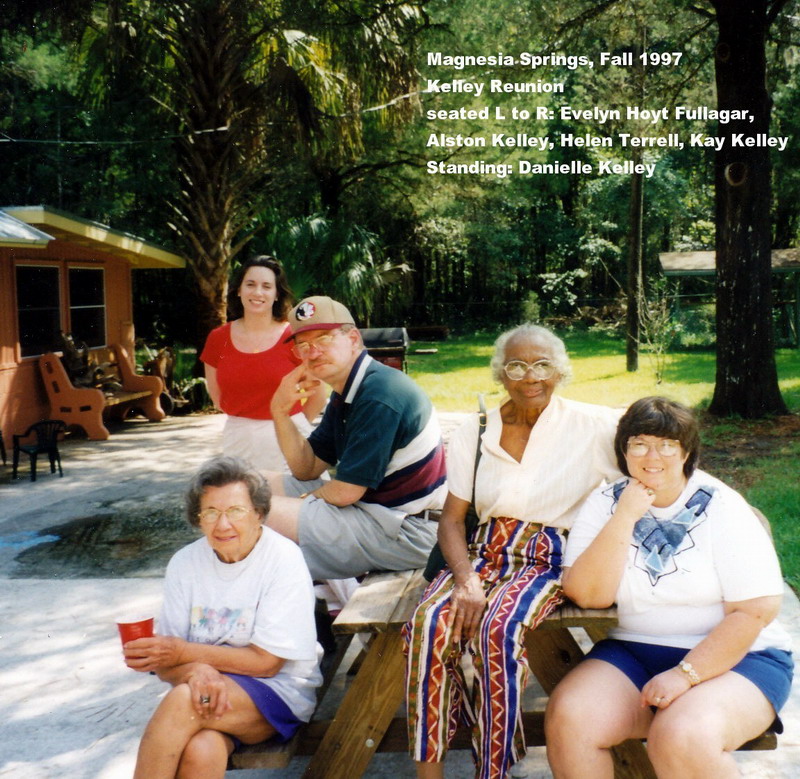 Seated L to R: Evelyn Hoyt Fullagar, Alston Kelley, Helen Terrell, Kay Kelley
Standing: Danielle Kelly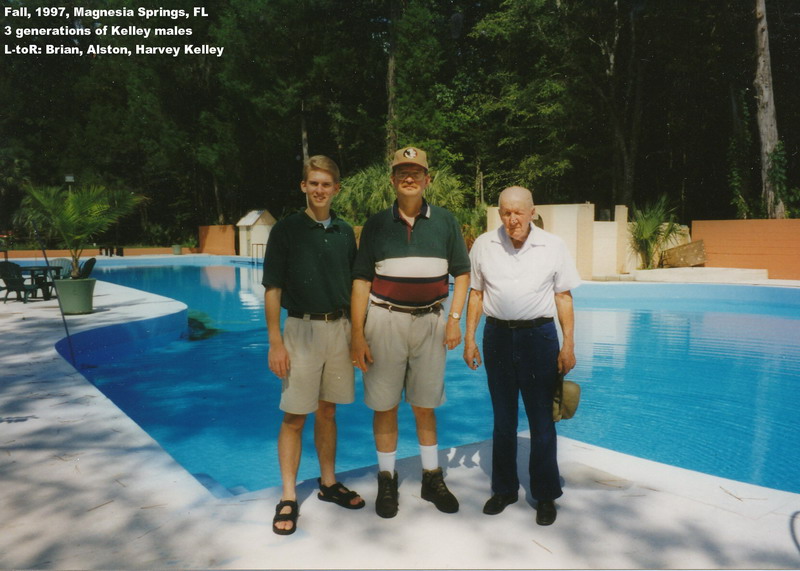 Three Generations of the Kelleys