Wilbur Mixson In World War I
---
BUNCEY, COTE d'OR.
FRANCE MAY 9, 1919
SKETCH OF CO. E, 306TH AMMUNITION TRAIN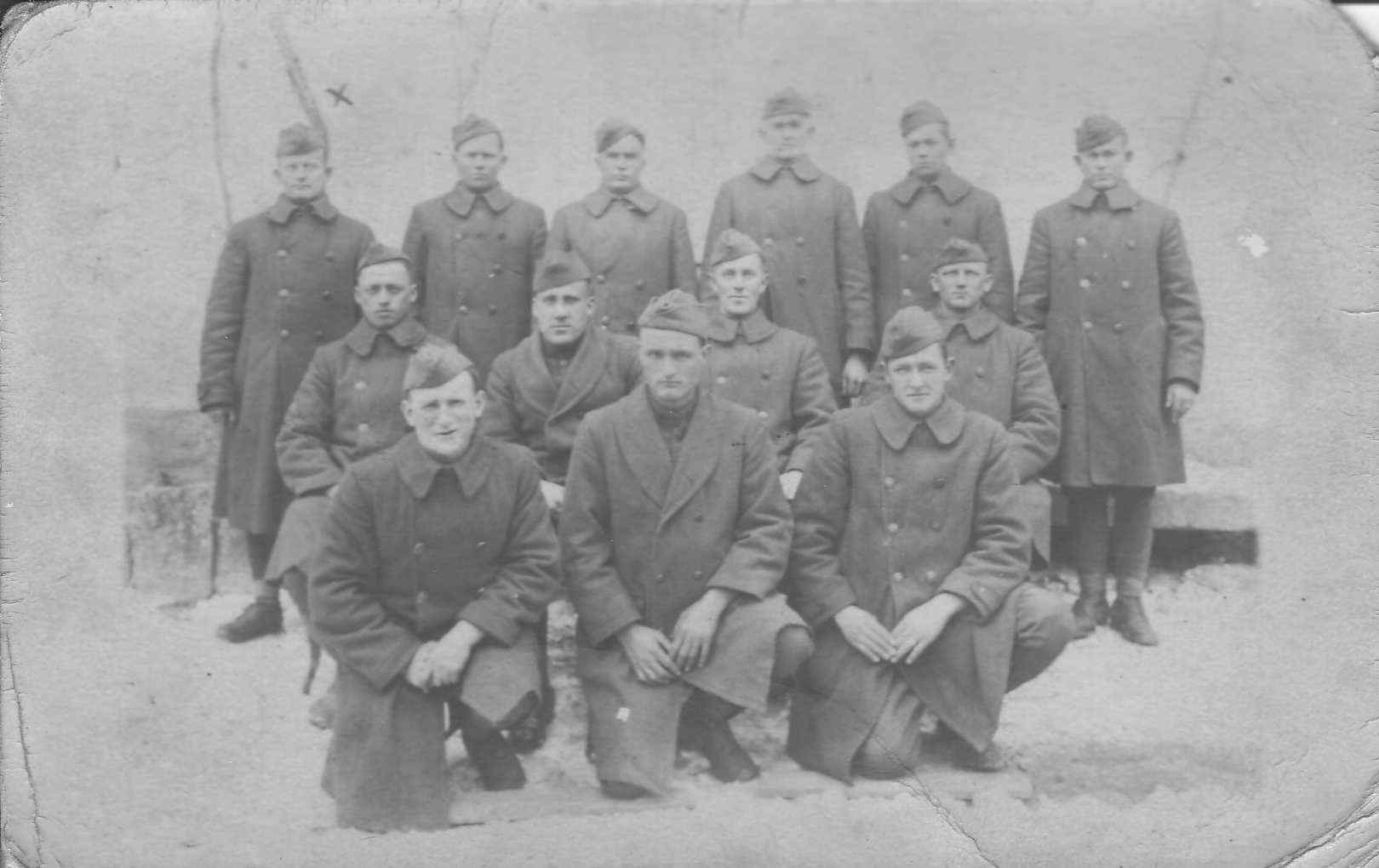 Wilbur Left Most Back Row
Co. "E" left Camp Jackson, S.C. at 5p.m. Wednesday July 24th., 1918 on the Seaboard Air Line Railway. Arrived at Camp Mills, N.Y. at 11 p.m. Thursday July 25th. Left Camp Mills New York at 2:30 p.m. August 7th and embarked on ferry boat at 4 p.m. Carried to Pier No. 49 Hoboken, N.Y. and embarked immediately upon White Star Liner, Royal Mail Steamer Celtic. Laid in harbor all night and following day. Hottest day and night of 1918 summer. Picked up American convoy off Sandy Hook at midnight August 8th on high seas. Convoy composed of three submarine chasers, three destroyers and three battleships.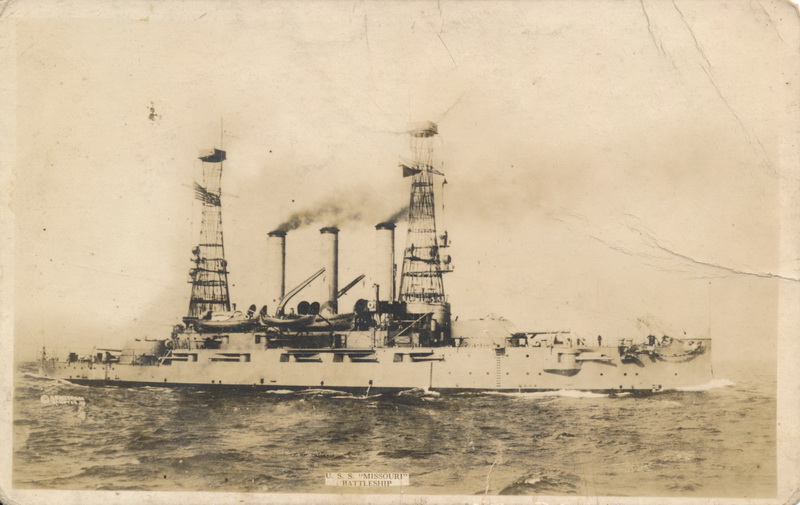 Postcard of the U.S.S. Missouri that took Wilbur England
Monday August 12th saw large ice burg off the coast of Greenland. Picked up English convoy at noon Sunday August 18th, composed of 15 sub-chasers. Saw land for first time August 19th and ran all day between coasts of Scotland and Ireland. Dropped anchor in harbor of Liverpool at 11 p.m. August 19th. Debarked following morning at 8 a.m. and hiked to railway station, where we boarded train. On train all day, passing Oxford University and Stratford on Avon, home of Shakespeare. Got off at Romsey at 5 p.m. same day and hiked two miles to rest Camp Woodley. Remained there until morning of Saturday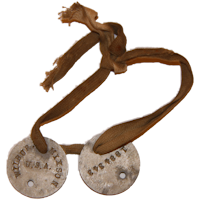 August 24th, when we hiked 12 miles under heavy pack to South Hampton, and crossed English Channel during night. Debarked at Cherbour, France at 7 a.m. Sunday August 25th. Hiked six miles to English rest camp and spent Sunday there. Monday morning hiked bck to Charoourg and boarded box cars "Noames 40 or Chavaux 8". Ate and slept in box cars until 1 p.m. August 28th when train unloaded at Valdahon, Doubs. Hiked 6 kilometers to Varcel, where we remained in billets for ten weeks. September 23rd hiked to "La Glacier" a large ice cave. Company billeted in an old school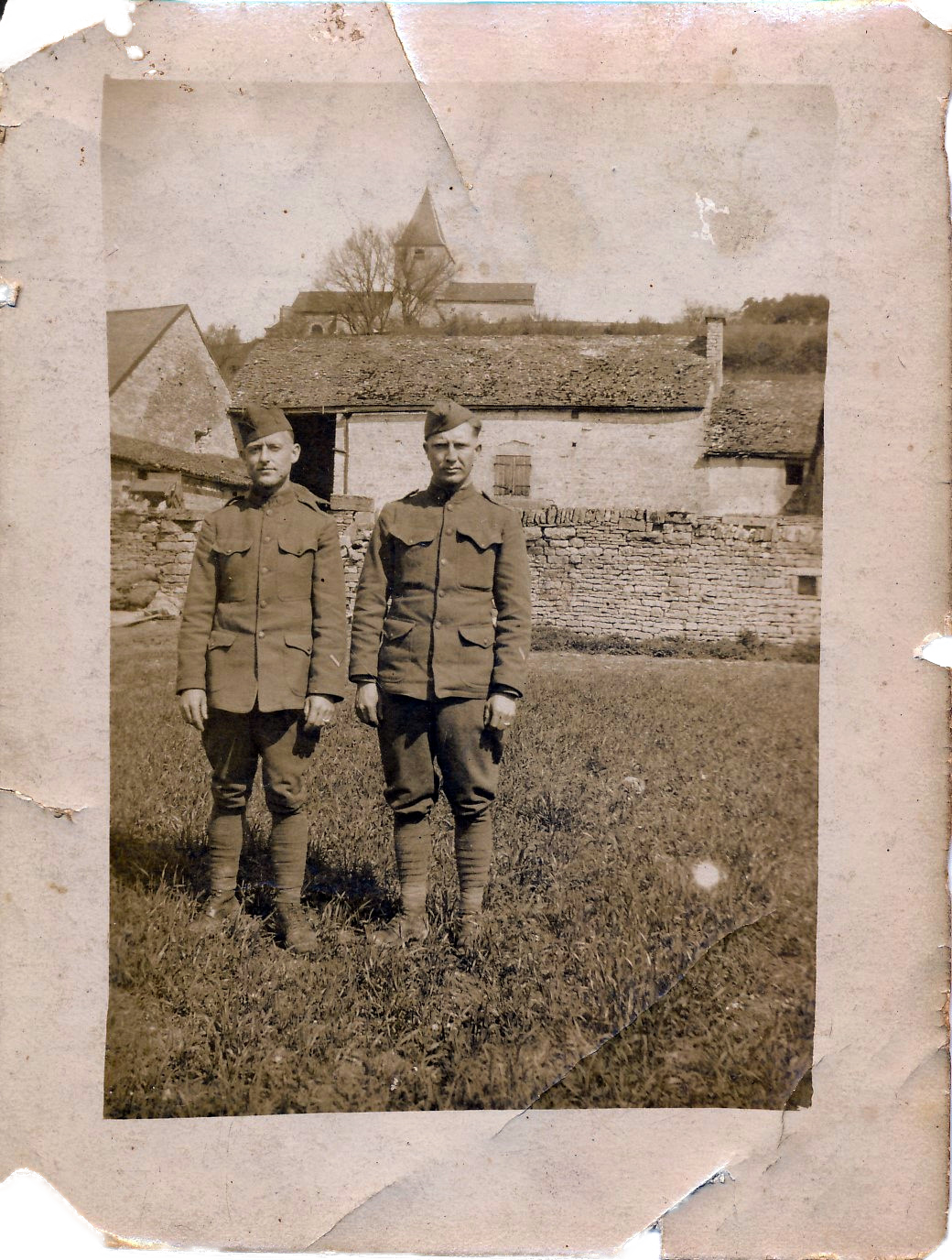 building at Vercel by the name of "L'Eole au Sacre Coeur." Left Vercel for the Front November 4th. Boarded train at Valdahon and on train all night. Arrived at Dugny, a railhead, at 12:33 November 5th, were we spent day. Hiked under cover of night to "MUDVILLE", known as Camp Oing Freres. Made trips over to Red Cross evacuation hospital, where they "put out" hot chocolate. Got orders to move up to Norenville front as support for 321st Infantry, which was shot to hell. Hiked all night under heavy pack, going over old trenches and barbwire entanglements. Not one man of "E" company fall out on this hike. Morning of 11th of November ate hard tack and corned willy for breakfast. Helped build a bridge under heavy fire and occupied support trench for Infantry. Just ready to go over "the top" when orders to cease firing cam in. Camped in pup tents on "no man's land" until November 14th, when company moved back to Camp Bios Sec. November 16th hike up to Verdum, 10 kilometers, and returned to camp same day. At 6 a.m. November 18th beg long hike. Hiked 16 kilometers to Courouve, where company spent night. On November 19th left Courouve at 10 a.m. and hiked 17 kilometers to Rembercourt, where we remained until November 23rd. Hiked to Haironville, where company rested one day. November 25th hiked to Breuil aur Marne, where we spent one night. November 26th hiked 15 kilms, to Brachey, where company billeted one night. Thanksgiving Day November 27th on road all day, hiking to Blaise, where spent one night. From Blaise moved to Juzencourt, where we were billeted in Government Barracks. Left Juzencourt November 29th and hiked to Barmesse, were rested one night. November 30th trucks picked us up at Chatervaillain and carried us to Buncey, Cote d'Or. On January 2nd 1919 left Buncey and hiked to Vanvey, Cote d'Or , to work with 306th Engineers on roads. Returned to Buncey March 10th. On March 20th acted as guard of honor for review of 81st "Wildcat Division" before the King and Queen of Belgium and General Pershing. Also acted as special guard at a review of the divsion for General Pershing on April 10th, 1919.

OFFICERS WHO HAVE SERVED WITH "E" COMPANY:
CAPT. NORACE W. SHELWIRE - HOME ADDRESS - RADNCR, PA.
CAPT. MARK A. COOPER
CAPT. H. A. GERGENS (NOW IN COMMAND)
1ST. LT. KENNETH D. GILMORE - COLUMBIA, S.C.
2ND LT. TENCH F. COXS
2ND LT. JOHN B. KIMBERLY, JR.
2ND LT. THOMAS WEATHERFORD.
Back to Wilbur & Rosalie